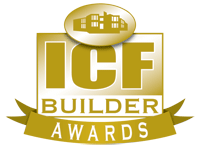 http://www.icfmag.com/builder_awards/2009/2009_awards.html.
Here is some additional information regarding the competition from the ICF Builders Magazine website:
The Builder Awards competition is an annual event designed to showcase the innovation, quality, and energy-efficiency of ICF construction, and promote them as a sustainable, durable and attractive building material.
Winners were chosen in six categories: Light Commercial, Heavy Commercial, Unlimited Residential, Large Residential, Small Residential and Multi Family.
The 2009 ICF Builder Awards were the most successful industry-wide competition in history.
ICF installers continue to set new benchmarks in sustainability, energy efficiency, and speed of construction for the entire construction industry, and nowhere is this more evident than in the projects presented below. These are the winners of the 2009 ICF Builder Awards, a worldwide competition that showcases the projects that have advanced the entire industry.
This year we received more than 50 entries from three continents, with 15 different types of Insulated Concrete Form represented. Every single entry we received was noteworthy and impressive. The winners, profiled on the following pages, represent the best-of-the-best, the very finest ICF buildings on the planet.
A panel of judges selected a winner and two runners-up in each category based on the criteria below. Complexity, creativity, site challenges, and media exposure, were all factored in determining which projects had done the most to advance the industry.
"The common denominator with all the winning projects was their exceptional quality," says Clark Ricks, one of the contest judges."